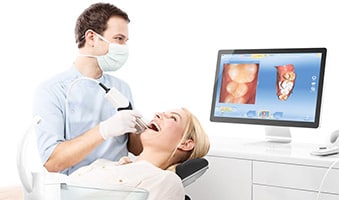 CEREC technology has arrived at Assure A Smile! One of the most powerful and advanced dental technologies available, CEREC is revolutionizing the way patients experience restorations, implants, and orthodontic treatments. This innovative new technology is the pinnacle of digital dentistry, combining leading video-imaging technology with laboratory quality production capabilities directly within the Assure A Smile office.
Receive a perfect crown in 1 visit. With CEREC, restorative procedures involving crowns, inlays, onlays, veneers, bridges, and abutments can be performed in a single visit, without the need for temporaries and follow-up visits. For more information, contact Assure A Smile to learn more about dental procedures with CEREC technology.
The Art of Digital Dentistry
Watch as CEREC creates a custom crown, just moments after the patient receives a comprehensive video scan.
Learn More About CEREC Technology
Restorations
CEREC technology is backed by more than 30 years and 250 clinical tests that demonstrate its excellence in restorative procedures. There are a variety of reasons to smile about this amazing new technology, including:
More comfortable impressions. CEREC video impressions eliminate the need for plaster trays of "goop," making each restoration procedure a more comfortable and relaxing experience.
Advanced restoration recommendations. CEREC uses advanced Biojaw software to fully analyze the teeth, gums, and surrounding soft tissues to provide precise restoration recommendations for natural, comfortable, and lasting outcomes.
Laboratory quality dental solutions. CEREC brings lab-quality production capabilities directly into the dentist office, allowing patients to receive customized dental solutions more quickly than ever before. With CEREC, Assure A Smile can now produce the highest quality crowns, inlays, onlays, veneers, bridges, abutments, and temporary or permanent dental solutions using bio-compatible materials that are known to be non-toxic. Patients receive permanent dental solutions the same day of the appointment, eliminating the need for temporaries and follow-up visits.
Implants
In addition to more comfortable and convenient restorations, CEREC technology makes it possible to perform implant procedures with surgical precision. Using the CEREC technology, Dr. Herrmann is able to create a surgical guide using optical video impressions and 3D scans. Guides are produced just moments before your procedure to ensure maximum accuracy and precision.
Implant fitting in 1 session. Unlike traditional implant techniques, CEREC eliminates the need for "goopy" plaster impressions, temporary teeth, and multiple appointments. With CEREC technology, a completely customized abutment can be created in just 1 session. Abutments are designed using advanced 3D video imaging to ensure natural and comfortable sizing and fit. Implants are placed by Dr. Herrmann, Diplomat of the International Congress of Oral Implantology and recognized leader in the field of dentistry.
Orthodontics
Receive better orthodontic treatment with CEREC technology. With digital impressions and 3D imaging, CEREC captures the oral anatomy with greater comfort, accuracy, and precision compared to traditional plaster impressions.
Key Benefits of Orthodontic Treatment with CEREC
Enjoy a more comfortable experience with digital impressions.
Faster delivery of patient information and digital impressions to providers like Invisalign®.
Quicker turnaround time—receive your Invisalign® aligners and other orthodontic equipment more quickly.
More accurate fitting—digital impressions enable creation of aligners and orthodontics with unparalleled precision.
Brighter smiles—faster, more precise treatment makes creating the smile of your dreams easier and more fun than ever before.
Visit the following pages to learn more about orthodontics and Invisalign® in Miami.
Experience CEREC at Assure A Smile
Assure A Smile is one of the only dental practices in South Florida to offer restorations, implants, and orthodontic treatments enhanced with CEREC technology. To learn more about this amazing new approach to dental care and orthodontic treatment, contact Assure A Smile online or call our friendly front desk at 305-274-0047.