Laser Dentistry with Waterlase®
In Miami, laser dentistry is growing in popularity among patients who want their dentist to treat their teeth in a less invasive way. Laser dentistry for children and adults of all ages is more accurate and precise than traditional methods, and it is know to feel gentler on the teeth. So gentle, in fact, that many patients request less Novacaine during procedures. In this way, laser dentistry makes your visit to the dentist a more comfortable experience that cleans and restores the teeth better than every before!


Waterlase® Dentistry
Waterlase® dentistry is a special type of laser dentistry technology that gives our Miami patients gentler and more precise treatment option for a variety of routine dental procedures, including:
Cleaning plaque from tooth enamel
Removing areas of decay from tooth
Prepping teeth for a restoration (filling, in-lay, and more)
Treating the gums and surrounding soft oral tissues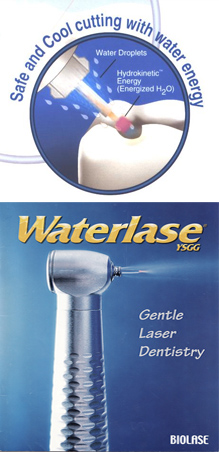 What is Waterlase®?
At Assure A Smile, we use only the latest and most acclaimed technology for your convenience. Waterlase® is a safe laser technology that reduces the dosage of Novocaine typically required during dental procedures. Dr. Ted Herrmann is experienced in providing several dental procedures with Waterlase® to improve the health and function of the teeth, gums, and/or bone.
More on this laser dentistry technology. Waterlase® Dentistry uses a patented technology combing YSGG laser energy and a spray of water. This process is called HydroPhotonics™, and it is used to perform a wide range of dental procedures on the teeth, gum, and bone more comfortably. This enables dentists to use fewer shots and less anesthesia, reducing patient anxiety and providing a more relaxing dental experience.
What are the benefits of Waterlase® Dentistry?
First and foremost is the philosophy of minimal invasiveness. Dr. Ted Herrmann is a practitioner of Minimally Invasive Dentistry, placing the health and comfort of his patients ahead of all other concerns. Waterlase® is one of many tools that Dr. Ted Herrmann uses to promote this philosophy, as the benefits are outlined below.
Virtually painless. Many patients become fearful and anxious at the thought of "drilling" teeth. With Waterlase®, teeth are treated with advanced water-laser technology that effectively removes decay while minimizing feelings of discomfort.
Less anesthetic. No one likes Novacaine injections. Waterlase® procedures are so gentle, many patients are able to receive routine procedures with little or no anesthetic!
All-natural. Waterlase® combines 3 natural elements to treat the hard and soft oral tissues of the mouth: Air, water, and safe laser energy.
More convenient. Waterlase® is ideal for patients with busy schedules. It's gentle, convenient, and requires fewer anesthetics, so patients can treat their teeth without disrupting their schedule. Return to work, school, or home without a numb, droopy face!
Safe and precise. Remove decay without compromising the rest of the tooth. With Waterlase®, surrounding healthy tooth enamel is left unaffected. This reinforces the strength of fillings, in-lays, and other procedures that are performed.
More comfortable.
Save time. Since you often do not need shots or anesthesia, Dr. Herrmann can use the procedure to perform cavity preps in all areas of the mouth in just one visit. This technology also gives him the ability to perform many procedures that were previously referred to specialists, which means fewer dental visits for the patient.
Learn More About Laser Dentistry at Assure A Smile
Schedule an appointment with Assure A Smile you learn more about water laser dentistry with Waterlase®. Call our friendly front desk at 305-274-0047, or contact us online for more information.