In Miami, cosmetic dentistry is a popular choice for individuals who want to enhance the appearance of their smile. At Assure A Smile, we take a holistic approach to cosmetic dentistry that emphasizes each patient's holistic health and personal goals. In addition to working on improving your teeth for cosmetic reasons, we'll also examine important health and lifestyle factors that impact the longevity of that smile. In doing so, we'll provide you a variety of dental services to transform that average smile into a memorable one that you can maintain for life!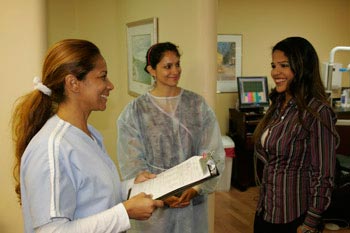 Cosmetic Dentistry Procedures
Cosmetic dentistry is an art at Assure A Smile, and we are pleased to offer the best cosmetic dentistry technology and services available in Miami. It all begins with a personalized consultation, during which Dr. Herrmann helps patients understand the different procedures available to attain specific cosmetic goals. Following consultation, patients learn about the orthodontics, digital imaging technologies, and other cosmetic procedures available to help create brilliant new smiles.
Personalized Cosmetic Consultation
During your complimentary personal consultation, Dr. Herrmann explains the many different techniques available in the field of aesthetic & cosmetic dentistry that can help you attain your smile enhancement goals. Additionally, he will inform you of the benefits of thinking holistically the next time you are caring for your teeth. If you are looking for more information about the holistic practice, please visit our Holistic Dentistry Services webpage.
Aesthetic Smile Enhancement
Next, Dr. Herrmann helps patients determine if orthodontics are needed to achieve their personal cosmetic goals.
Invisalign. Dr. Herrmann is a Premier-Preferred provider of Invisalign, the leading invisible braces system that has created over 1 million smiles worldwide. Also available is Invisalign Teen, a new version of the popular clear braces system designed exclusively to meet the needs of teenagers. To learn more, visit our Miami Invisalign page.
DNA Appliance. From underlying jawbone to the teeth, and everything in between, this new device encourages gentle, natural, and holistic changes to each of the most critical elements of a patient's smile.
Digital Imaging and Personalization
Create the smile of your dreams with digital precision. At Assure A Smile, we offer leading digital impressions and 3D imaging software to ensure your cosmetic procedures deliver the best possible outcome.
iTero Scanner. The perfect complement to any new Invisalign case! The iTero scanner uses advanced digital imaging and software to create a virtual map of your oral anatomy. The teeth, gums, and other soft tissues are documented with incredible accuracy and precision, enabling our team to create Invisalign aligners that will be more comfortable, discrete, and effective.
Gendex 3D Imaging. The newest addition to our office, Gendex 3D imaging technology enables our team to take a completely customized view of the teeth, gums, and surrounding soft tissues. We then render images in 2D, 3D, or panoramic orientation to assist in planning cosmetic procedures with greater accuracy and precision. With Gendex, patients can see exactly how teeth and gums will be treated by crowns, orthodontic devices, dental implants, and much more. Gendex also enables more accurate creation and implantation of cosmetic devices, like orthodontics and implants.
Additional Cosmetic Dentistry Services
In addition to the cosmetic procedures detailed above, we are pleased to offer the following
Bridges
Sealants
Night guards
Snore guards
Oral Surgery
Bone Grafting
Tooth Implants
Tooth whitening
Placement of implants
Athletic mouth guards
Extraction of wisdom teeth
Porcelain Veneers 
(Metal-free)
Endodontics (Root canal therapy)
Restorative filings, bonding, and crowns
Periodontics & Gum Care (Non-surgical gum treatment as well as root planning and scaling)
A Holistic Approach
At Assure A Smile, every cosmetic dental procedure is planned with holistic health and wellness in mind. We take a holistic approach to cosmetic dentistry, placing patient safety and aesthetic results at the forefront of every treatment plan. Below are 3 keys that make our approach to cosmetic dentistry the best in Miami.
Biocompatible materials. As a holistic dental practice, we understand how certain dental materials may cause adverse reactions. Traditional dental offices still use materials like dental amalgam (silver fillings), a metallic mixture that contains upwards of 50% mercury. Our commitment to patient health ensures the use of only the safest, non-toxic and biocompatible materials.
Improved physical health. Unlike traditional cosmetic dentists and orthodontists who focus on just the teeth, our holistic approach to cosmetic dentistry addresses the entire craniofacial region. We help patients choose cosmetic procedures that will improve alignment, reduce TMJ pain, build stronger teeth, healthier gums, and naturally open the airways.
Increased self esteem. We help patients choose cosmetic procedures that reinforce a positive self-image, build self-confidence, and improve self-esteem. We firmly believe that the best way to improve long term health and vitality is to make it easier for every patient to smile with confidence!
Schedule Cosmetic Consultation
To learn more about our holistic approach to cosmetic dentistry, schedule an appointment online or call a friendly member of our front desk at 305-274-0047.