Dental Solutions to Whiten Your Teeth
ZOOM! Teeth Whitening in Miami Florida, is the most popular way to make your teeth up to 8 shades whiter in just 1 two-hour session. Using this teeth whitening technology, dentists are better able to provide patients with a safe and fast option for whitening discolored teeth. Patients receive this teeth whitening treatment in the dentist office, so you can rest assured that the procedure will be performed by a qualified and experienced professional.
Teeth Whitening in Miami
White teeth are the hallmark of a beautiful and engaging smile. In Miami, patients of all ages request teeth whitening procedures to improve the overall appearance of their smile. Brighter smiles build confidence, nurture self-esteem, and make a lasting impression with the people you meet! From the boardroom to the schoolyard, Miami teeth whitening procedures improve lives every day by creating brilliant smiles that patients are proud to flash with confidence!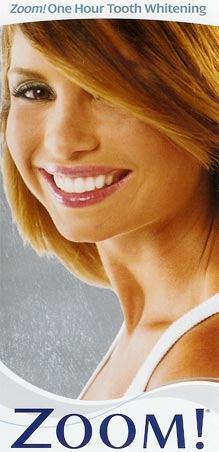 Benefits of ZOOM! Whitening
Both your lifestyle, as well as the aging process, can stain and darken your teeth dramatically over time. Many day-to-day activities that we do on a regular basis, such as our diet or bad habits, may significantly contribute to stained teeth. These habits include drinking coffee, tea, cola, red wine, and/or smoking.
Our patients love ZOOM! chairside whitening, and it's not hard to see why. Here's what our patients say about teeth whitening procedures at Assure A Smile:
Whitening procedures are fast and convenient
The results are long-lasting
The procedure is virtually pain-free
Teeth enjoy low sensitivity during and after the procedure
Whitening at Assure A Smile is proven to be safe and effective
Procedures are always performed by an experienced professional
Consultation for ZOOM! Teeth Whitening
At Assure A Smile, we are pleased to offer ZOOM! teeth whitening to our Miami patients. Prior to administering a teeth-whitening procedure, patients receive a comprehensive exam that includes the following:
Setting your teeth whitening goals. How white do you want your teeth? With ZOOM!, our dental team can lighten teeth up to 8 shades in 1 two-hour session. Whitening sessions can be planned to lighten the teeth more or less, and several sessions can be scheduled into the future to keep teeth consistently white over time.
Eliminating stains. Are your lifestyle habits staining your teeth? During our 1-on-1 teeth whitening consultation, patients learn how certain habits can stain teeth and negate the effects of the procedure. Learn to maintain a beautiful smile by avoiding activities that stain your teeth, like drinking wine, tea, smoking, and more.
Enhancing your smile. In addition to ZOOM! whitening, patients can choose from a number of smile enhancing technologies and treatments to create the smile of their dreams. We are pleased to offer orthodontics like metal braces, Invisalign, Invisalign Teen®, and the all-new DNA Appliance®.
About the Procedure
We recommend scheduling teeth whitening after a comprehensive dental cleaning to maximize results. Unlike teeth whitening products that are purchased at the store, ZOOM! quickly whitens teeth up to 8 shades lighter in just 2 hours.
Step-by-step, the in-office teeth whitening procedure generally works as follows:
Your dental hygienist will gently cover your lips and gums, leaving just the teeth exposed in preparation for whitening.
Next, hydrogen peroxide is applied to the teeth. This special formula is designed to lift serious stains from tooth enamel.
The ZOOM! light is applied to the teeth, working in conjunction with the hydrogen peroxide to remove stains and whiten teeth. This part of the procedure generally lasts about 15 or 20 minutes. During this time, patients are invited to relax and enjoy their favorite music, movies, or television shows!
Following treatment, a special gel is applied to the teeth to reduce post-procedure sensitivity.
Schedule a Teeth Whitening Procedure
To learn more about ZOOM! teeth whitening, we invite you to click here to contact us or call our friendly front desk at 305-274-0047.