Custom Dental Solutions for Your Needs
Reconstructive dentistry is a growing field. Despite increasing popularity, Miami residents often have unanswered questions about reconstructive dental surgery. What is reconstructive dentistry, and how does it differ from cosmetic procedures? Should I see a reconstructive dentist in Miami, or is it best to see an oral surgeon?
If you have wondered these questions, rest assured you are not alone. Since 1989, Assure A Smile has been a leader in reconstructive dentistry and dental surgery in Miami. We invite readers to learn more about our holistic perspective on oral reconstruction, followed by a section of frequently asked questions (FAQ) regarding reconstructive dentistry.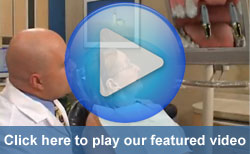 A Holistic Perspective on Reconstructive Dentistry
As a holistic practice, we specialize in providing comprehensive reconstructive dental surgery that harmonizes the function of every oral tissue. If you are new to the concept of reconstructive dentistry, the major things to know and understand include:
Reconstructive dentistry involves the examination and repair of soft oral tissue, hard oral tissue, connective tissues, and general alignment.
Soft oral tissues include the gums, insides of the cheeks, tongue, and lips.
Hard oral tissues include both teeth and underlying areas of jawbone.
Connective tissues include various different tissues and membranes that hold the oral anatomy together, including nerves, oral mucosa, and blood vessels.
Find the Care You Need. The mouth is said to reflect the health of the entire body. At Assure A Smile, our holistic dental professionals have the technologies, experience, and expertise to recognize larger, often more serious body conditions through evaluating the oral anatomy. We are equipped and experienced in treating most cases. In the event that we cannot adequately treat your condition(s), it is our pleasure to refer you to another trusted specialist in the Miami area.
Dental Reconstructive Surgery FAQ
Dental reconstructive surgery is the branch of dentistry that involves rebuilding the mouth. A Miami reconstructive dentist is there to help you get the smile you are looking for, whether you need surgery to repair injured areas, prosthetic teeth replacements, or treat other severe dental problems.
However, you should not pick the first reconstructive dental surgeon that you find. Instead, there are some factors that you should consider beforehand. Use the following list of frequently asked questions (FAQ) to help find a dentist that specializes in reconstructive dental surgery you can trust.
How much does the dentist know?
Every year there are new advances when it comes to comprehensive reconstructive dentistry. Therefore, you want a dentist that is up to date on the information that is newly available, or soon to be released. This means performing some research either by phone or Internet. Talk to the dental office staff and find out how much they know about the treatments you are interested in. Most importantly, look into the training that the dentist has had.
Learn more. Visit Dr. Herrmann's profile to learn more about Assure A Smile's founder and lead reconstructive specialist.
Does the dentist have advanced accreditations?
When you are considering comprehensive reconstructive dentistry, you want a dentist that is on top of the current information coming out. This means going to educational seminars and even taking additional classes. Find out if the dentist is accredited with commonly known institutions like the American Academy of Cosmetic Dentistry.
What technology is being used?
Besides new information that is emerging, there are also new technologies. A Miami dentist that specializes in comprehensive reconstructive surgery should also be up to date on equipment. This includes having all of the latest technologies, like dental lasers, x-rays, intra oral cameras and imaging software, and even 3D software that will allow you to see your new smile before your implants are even created.
Does the dentist provide personalized care?
Comprehensive reconstructive dentistry is a very personalized field. You want to find a reconstructive dentist that is willing to look at you as an individual. He or she must also be willing to listen to your wants and needs. You need to find a dentist that makes you comfortable and is willing to thoroughly address any questions or concerns that you might have about your procedure. Comprehensive reconstructive dentistry is not something that you should enter into lightly. You want to find a Miami dentist that is going to take care of you and your mouth and give you the optimum, personalized care that you deserve.
Learn More About Reconstructive Dentistry
To learn more about reconstructive dentistry at Assure A Smile, schedule an appointment online or call a friendly member of our front desk at 305-274-0047.