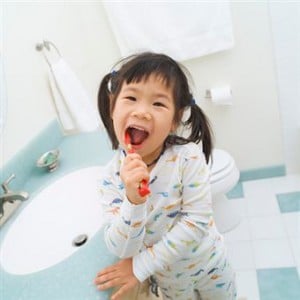 The American Dental Association sponsors National Children's Dental Health Month each February.  The focus of this ADA initiative:  To give young people the education and motivation to develop good oral hygiene skills, so they may grow into adults with good dental health.  Assure a Smile stands behind the ADA this month, urging parents to help their children Create Healthy Teeth and Gums for Life!

Comments by Dr. Ted Herrmann:
As both a Miami dentist and father of two, I know firsthand the importance of teaching sound oral hygiene habits to children at an early age.  From a holistic dentistry and wellness perspective, teaching children to care for their teeth and gums will significantly decrease their long-term risk of serious illness.  This February, Assure a Smile urges parents to motivate their children to proactively think about the foods they eat, the importance of oral hygiene, and the ways in which good oral hygiene promote overall wellness.  That may be a lot for a youngster to grasp, so we've created this guide to help!  Please read, revisit, and share this article throughout February.  You may also Follow Dentist305 (Assure a Smile) on Twitter for daily dental news, articles, and health tips!
Children and Good Oral Hygiene
The U.S. Surgeon General warns that over 40% of American children experience tooth decay before the age of 5 (i).  Tooth decay may seem innocent, however, it may lead to more serious conditions like heart disease.  It is very important for parents to help their children develop good oral hygiene in the following ways:

1) Enforce Good Habits Early
Habits, even good ones, are hard to break.  Encourage children to keep their mouths clean at an early age.  For infants, clean the mouth and gum area regularly with a soft-bristled toothbrush and water.  As your child ages, do not let him or her fall asleep with their bottle.  This allows the sugars in baby formula or milk to corrode their developing gums and teeth.  Finally, brush your baby's teeth two times daily with a soft-bristled brush and toothpaste.

2) Continue to Enforce Good Habits
As your child matures, continue to enforce both good oral hygiene and smart snacking habits.  Encouraging your child to snack on vegetables, fruits, and other low-sugar natural foods will significantly lower the amount of bacteria and acid in their mouth.  This will help prevent tooth decay and keep their general health level high.

3) Provide Ongoing Reward and Punishment
Like other areas of child care, systems of reward and punishment work well to teach children what is acceptable and what is not.

Holistic Dentistry:  Thinking About the Big Picture
Promoting oral health extends beyond eating well and brushing regularly.  It is a holistic concept, encompassing many lifestyle choices.  Parents are smart to teach their children that their teeth are of vital importance to long-term health and encourage the use of protective mouth guards while playing sports.  They should warn them that drinking tea, coffee, and smoking cigarettes may stain teeth and predispose them to tooth decay (along with other serious illnesses).
Just in time for National Childrens Dental Health Month:  the Valentine's Invisalign Special!  New Invisalign patients, including children, are eligible to receive $500 off Invisalign Invisible Braces and a $500 credit towards Zoom teeth whitening!
From all the professionals at Assure a Smile, we wish you a happy Dental Health Month and look forward to seeing you soon!

(i) http://www.medicalnewstoday.com/articles/215960.php