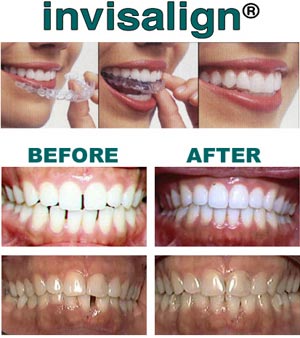 Technology has evolved considerably to the point that a straighter, more beautiful smile does not necessarily require the use of traditional braces. We're proud to offer solutions like Invisalign and we're also excited to tell you that for a limited time, you can save big. Until April 15th, we're offering Invisalign for $1,000 off!
Countless patients have chosen Invisalign to straighten their smile and further complement their existing natural beauty. As its name suggests, Invisalign is clear, comfortable to wear and it allows a lot of convenience for patients. Invisalign is considered to be discreet, so only the patient knows that they are being used because they are in reality "invisible" to others. Using Invisalign, patients can look forward to a gorgeous smile while further strengthening their confidence.
For Invisalign neither wires nor metal are used. In their place are a series of transparent, reversible alignments that straighten the teeth over time. Unlike traditional braces that are designed to remain permanent until the teeth are straightened, Invisalign has the option of being removed.
This update is by Assure a Smile, the longest-tenured holistic dental practice in Miami. Our top priority is to provide patients with all-encompassing oral health care that safely improves oral health and wellness. By helping patients look and feel their best through a holistic dentistry approach, we strive to empower patients to make informed lifestyle choices that result in strong teeth, healthy gums, beautiful smiles, and optimum vitality. For more information on holistic dental care or to schedule an appointment with a holistic dentist, please visit https://www.assureasmile.com or call 305-274-0047.